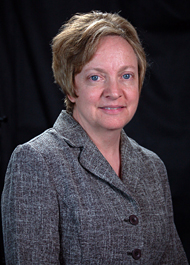 Dianne Trickey-Rokenbrod, O.T.D., M.B.A., OTR/L
Associate Professor of Occupational Therapy
(315) 279-5608
[email protected]
---
Academic Credentials
Chatham University
O.T.D.
Alfred University
M.B.A.
University at Buffalo
B.S.
---
Biography
Dr. Trickey graduated with honors with a B.S. in Occupational Therapy from SUNY at Buffalo in 1980. She completed an M.B.A. at Alfred University and then completed her doctorate in Occupational Therapy at Chatham University.
Her clinical career has been through service in a variety of health care settings specializing in physical dysfunction rehabilitation in hospital-based outpatient clinics, inpatient acute units, home care and geriatric settings, as well as some acute psychiatric experience early in her career. Across these settings, Dr. Trickey has developed management expertise by operating multidisciplinary rehabilitation programs, developing and operating hospital-based nursing homes, and offering management consulting to healthcare agencies in trouble.
After teaching courses in both business and Occupational Therapy as an adjunct at higher education institutions including Alfred University, Alfred State College of Technology, and Keuka College, she joined the faculty at Keuka College full-time in 2009. Dr. Trickey is currently a tenured faculty member with the rank of Associate Professor in the Occupational Therapy Division.
Dr. Trickey has published a textbook, "Therapy in Action: A library of realistic case studies with Wolters Kluwer Health/Lippincott Williams & Wilkins" in February, 2016. She continues to conduct research related to driving independently as well as housing insecurity.