Study the Forces that Shape Humanity
In an increasingly global society, you'll need to be prepared to work with diverse groups of people in a variety of different social settings.
Our applied sociology program is designed to create independent thinkers with a clear understanding of real-life situations, and the ability to work towards resolving social problems. We provide you with the tools needed to survive and thrive in a rapidly changing social world, whether you choose a general sociology major or a sociology minor.
Our program prepares you for graduate study or work in sociology or related fields such as counseling, administration, law, applied social research, and social work.
Career opportunities span virtually any vocation that involves working with people, including juvenile services, social planning and policy-making, personnel management, public and industrial relations, probation, law enforcement, community action, advocacy and non-profit organizations.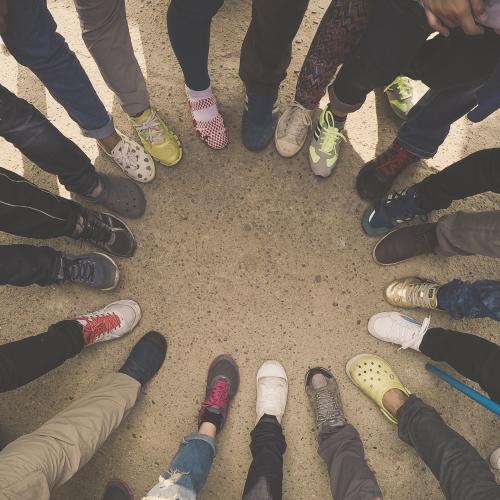 Get Real Sociology Experience
Real-world, hands-on experience is an important part of your Sociology degree.
The Keuka College Field Period® gives you the chance to have four separate Sociology internships, starting your freshman year.
Program Overview
Thanks to a strong, theoretical foundation in traditional liberal arts, and our unique, experiential-focused curriculum, our sociology program will provide you with an understanding of social relationships through periods of stability and change, as well as conflict and cooperation among individuals, groups, organizations and communities.
Your sociology major will transform you into an independent thinker with a clear understanding of the complexities of contemporary social issues and the ability to assess root causes of social problems in order to identify potential solutions to resolve or reduce conflict.
As a sociology major, you will learn to:
Understand the role of sociology in contributing to cultural awareness of social realities.
Comprehend sociological theories and their application to current social issues
Develop computational research skills useful to acquire knowledge, uncover patterns, formulate opinions and support conclusions through cutting-edge technologies.
Build effective communication skills to convey understanding and empathy in a manner that promotes cultural inclusion and celebrates diversity.
Evaluate and identify career options and professional opportunities in relation to personal values, traits and experiences developed in our hands-on Field Period® program and experiential, applied curriculum.
By the time you graduate, you will have acquired up to 560 hours of real-world experience through your senior sociology fieldwork placement and annual Field Period® opportunities which can take the shape of a professional internship, a cultural study at home or abroad, community service project, artistic endeavor or spiritual-based exploration. Find a variety of settings where you can develop your personal and professional interests in the fields of social service, mental health, criminal justice and more.
Deepen and refine connections between classroom learning and hands-on experience, as you explore career opportunities, gain transferable skills within your field and build your professional network.
The sociology major may be completed with either a general major or a concentration in criminology.
Learn More About Sociology
As a sociology major, you'll take an upper-level research methods class, in which you'll propose a specific study in an area of interest, and outline the research methods and steps that would render your thesis question valid or not. You'll present your research proposal to professors and classmates, but will not have to formally complete the study itself.
One example of a Keuka College student whose research study made a difference for others in the campus community is that of Indigo DeJong '15, who worked with Dr. Jessica MacNamara in the fall of 2015 to conduct an independent research study on the campus climate and gauge interest levels in gender-inclusive housing for LGBTQA+ students within the campus community.
Through the use of 281 surveys, Indigo found that 81% of respondents were supportive of gender-inclusive housing, and another 15% were indifferent.
These findings, and others from self-identified LGBTQA+ students, were presented to members of the Student Senate, College President, Board of Trustees, and administration at an open town hall meeting where a proposal recommending gender-inclusive housing was requested from Indigo. After submitting the recommendations along with her results, Indigo learned in December 2015 that the College Board of Trustees had unanimously approved the proposal and gender-inclusive housing would be offered on campus in the Fall of 2016.
According to Indigo, Dr. MacNamara provided strong encouragement that the research could help Indigo reach out to the greater Keuka College community and advocate for social change.
"I am so excited it will be making a lasting impact on the college and community!" Indigo said.
Enjoy an interdisciplinary approach to this program through a number of faculty in our Basic & Applied Social Sciences Division. Your sociology-specific courses will be enhanced by additional study with professors in the fields of criminal justice, psychology and social work.
Two sociology faculty teach the bulk of sociology courses supplemented with expertise from other faculty specializing in areas such as child and family development, behavioral science, mental health counseling, law enforcement, and community resourcing. For more information on specialty areas of expertise and specific courses, please click their respective faculty profiles.
Contact Information