Build Upon Your Master's in Nursing with an Adult/Gerontology Primary Care NP Certificate
Keuka College's Post-Master's Adult/Gerontology Primary Care Nurse Practitioner Certificate program will provide you with the skills, knowledge, and clinical experience necessary to serve as a primary health care provider in a diverse array of settings.
As a graduate of the program, you'll be able to comprehensively diagnose and treat illness in people age 18 and older. Additionally, you'll have the credentials needed to attain a higher-level leadership and clinical role, directly impacting patient care and improving health care delivery within your organization.
Upon successful completion of the program, you'll be prepared to take the American Nurse Credentialing Center or the American Academy of Nurse Practitioners national certification exam.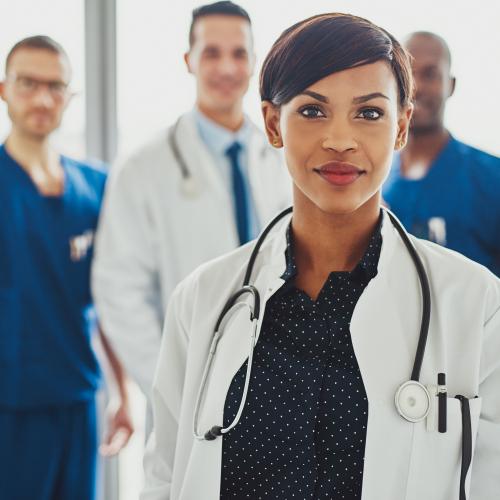 Exclusively for Working Nurses
The A/GPCNP program was created specifically for busy, working nurses with full-time jobs and families. Classes are held just one evening each week, and there is plenty of virtual support to help you be successful.
Learn More About the A/GPCNP
Keuka College's program provides working nurses like you the opportunity to earn your A/GPCNP without sacrificing time at work or with your family.
You can earn your A/GPCNP certification in less than 2 years. Best of all, our evening and online format means you'll get the benefits of face-to-face instruction combined with the flexibility of online.
How Does Evening and Online Work
Attend face-to-face class just one night each week for 4 hours at a location close to home or work.
Complete assignments and readings online when it fits your schedule.
Earn your degree in just 17 months.
We make it as convenient as possible for working nurses like you to earn their A/GPCNP. Here's what you need to know about the admissions process.
Admissions Requirements
Completion of a master's degree in nursing from an accredited institution
Cumulative minimum grade point average (GPA) of 3.3 on a 4.0 scale
Applicants must hold an unencumbered NYS Registered Nurse license and must be employed part- or full-time as a nurse
Applicants must demonstrate an appropriate combination of maturity, experience, and motivation
How to Apply
Complete your Application for Admission online
Submit all official transcripts from each college or university you've attended
Submit all supplemental materials
Pay your $50 non-refundable application fee
Keuka College offers rolling admissions, however, we strongly encourage applicants for the Post-master's NP Certificate program to submit all required materials as soon as possible. Initial application reviews and interviews will begin in December and we will continue to review applications until February 15
Worried About Something?
We realize one size never fits all. If there's something on your mind, reach out to us and let us know! Give us a call at (315) 279-5254 or 1-800-335-3852 or by email at [email protected].
This program focuses on the assessment and application of clinical reasoning skills with an emphasis on prevention, diagnosis, treatment, or management of chronic or acute health conditions. An evidence-based research model integrates core and specialty coursework and training to promote strategies for change as leaders within the profession of nursing.
The Keuka College Adult/Gerontology Primary Care Nurse Practitioner program is accredited by the New York State Board of Regents and the Commission on Collegiate Nursing Education (CCNE). The CCNE address is:
Commission on Collegiate Nursing Education
One Dupont Circle NW, Suite 530
Washington, DC 20036
Telephone: (202) 887-6791
Keuka College is accredited by the Middle States Commission on Higher Education. Those with questions may contact the organization at:
Middle States Commission on Higher Education
3624 Market Street
Philadelphia, PA 19104
Telephone: (267) 284-5000
The Middle States Commission on Higher Education is an institutional accrediting agency recognized by the U.S. Secretary of Education and the Council for Higher Education Accreditation.
Your Nursing professors are accomplished academics and seasoned clinicians. They'll combine theoretical concepts with real-world, clinical expertise to give you the best Nursing education possible.
Contact Information