It finally sank in around three o'clock in the morning.
She was tossing and turning, trying to settle something that was on her mind. The problem was that she wasn't quite sure what that something was.
Then it hit her.
Colin, her 30-year-old "baby" brother, had just graduated with his master's degree the day before. She could vividly remember her dad's master's ceremony in 2005, and she could still remember what dress she wore to her mom's master's graduation when she was in grade school.
The problem, in Alyssa's mind, was that she couldn't remember her own college graduation. That's because it never happened.
"It was really weighing on me," says Alyssa Frederick '19, a graduate of our business management degree program. "My entire family has their master's degrees, and I still hadn't finished my bachelor's degree 13 years after I started it."
Part of Alyssa's motivation to go back was a story that she was telling herself.
"It's really hard to admit this, but I was starting to feel like a failure. I kept telling myself that my family looked down on me, even though I knew in my heart that wasn't true."
At the time, Alyssa had a great job as a field manager support representative with Paychex, and she spent her weekends running a successful side business as a professional makeup artist. On some evenings, she'd babysit — a job she started 20 years ago and fell in love with — and would help out at Parkleigh on Monroe Ave. from time-to-time.
"I always thought about going back to college, but I was at a place in life where I didn't think I needed a business management degree for career advancement," she recalls. "It wasn't until Colin graduated that I realized I needed to do it for me."
You Can't Stop Determination
Alyssa knew about Keuka College for more than ten years. She explored it from time-to-time but she never felt ready. She says that when the time was finally right, she looked at a few other colleges but ultimately decided Keuka College was the right choice for her business management degree.
"I knew I definitely didn't want a program that was totally online. I'm a people person. I like being front-and-center in class with the professor. Walking into class and seeing the disappointment on the professor's face if you don't do the assignment is a great motivator to hold yourself accountable."
She requested information online, and when the phone rang the next day, she almost didn't pick it up. But this time, she was determined.
"Not going to lie, for a second I almost chickened out and didn't answer the phone. But this time I knew I was ready."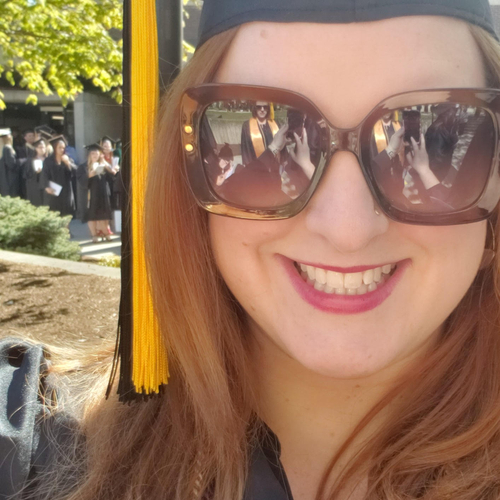 Alyssa's Advice: Don't Keep Putting It Off
There were so many times during the program that I thought to myself, 'If I started the first time I thought about it, I could have been done three times already.'
Even the right time won't always feel like the right time — just do it. The program's format fits in to even the busiest schedule.
Success. Simplified.
Alyssa's admissions process was easy. She says the fact that she only needed to register once and the College took care of registration for the rest of the program was also appealing.
A few weeks later, she started our business management degree that was offered on Monroe Community College's downtown campus.
"I honestly couldn't wait to go back the second week," Alyssa told us.
Her enrollment counselor ensured that all of her credits from SUNY Oswego and MCC transferred in properly, and identified that she'd need to take a lab science at some point before graduating. Alyssa fulfilled that requirement through one of our online courses about halfway through her program.
She chose the course that included the chance to come to the main campus and do some of the lab work on Keuka Lake. "Keuka Lake is so gorgeous," she says.
"Most of the work in the course was online, but there were three Saturday morning labs on campus. My friends and I would spend the afternoons after class exploring the Keuka Lake wine trail. I love reds and rosés, so it didn't take a lot of convincing!"
A Program Format with Tremendous Advantage
"I know myself, and I learn best when I'm in a classroom."
Alyssa shied away from fully online programs when looking for colleges. She thought the one night per week class in most of her courses (some courses are fully online, but the entire program isn't) would balance her desire for face-to-face instruction with the convenience of online.
"I know myself, and I learn best when I'm in a classroom," she says.
Adding class and schoolwork to her already busy schedule was challenging at first, but she quickly found a rhythm that works.
Her job was demanding — it didn't exactly end at 5 o'clock every day, and she'd often bring work home with her. The fact that classes are held on the same night each week for the entire program helped with short-term time management and long-term planning.
"I picked one evening and one day each weekend to do school work," Alyssa explains. "Sunday was my homework day. I made sure I didn't do anything on Sundays until my work was done. Tuesday night I dedicated to online classwork."
Even with that adjustment — and she did have to turn down a few makeup gigs — she still had plenty of time to spend with friends, traveled often to see her nephews in North Carolina, and could keep up with her job, her business, and her favorite evening pasttime — babysitting for her friends' kids.
Professors Who Inspire
A strength of our evening and online programs is that the professors all have real-world experience, usually in the communities in which they teach.

"My dad worked for Xerox for about 30 years, and a few of my instructors were current or retired Xerox executives, so that gave me a sense of confidence," Alyssa recalls. "And ironically, one of my professor's sons bought the house I grew up in. It was a really weird coincidence."

Alyssa's favorite instructor was Judy Spakoski, who she had for a number of management classes. She says Judy would answer email almost instantaneously, and she and her classmates could always call or text Judy during the week if they were stuck on an assignment.
The Ability to Earn More Money is Astonishingly Real
A degree really is so much more than a piece of paper.
"I always wanted to advance my career into management, but I didn't think I needed a degree because so many companies offer in-house leadership training programs," Alyssa says.

Less than six months after graduating, a friend helped recruit Alyssa to BioTel Research, where she now works as a project manager overseeing imaging projects for clinical drug trials. The new position came with a jaw-dropping raise.
She says that restarting her career and changing industries — going from finance to healthcare — came with a learning curve, but it was one of the best decisions she's ever made.

"I honestly didn't realize how much earning potential I was actually missing out on because I didn't have my degree. BioTel wouldn't have considered me if I didn't have my B.S., and I don't think I would have had the skills to do this job right. A degree really is so much more than a piece of paper."
A Proud "Baby" Brother
As for Alyssa's family, they've always been incredibly proud of her — no matter her level of educational attainment — and they always knew she could do anything she set her mind to.
Alyssa's family and friends came from Rochester, Canandaigua, Florida, North Carolina, and New Jersey to watch her graduate.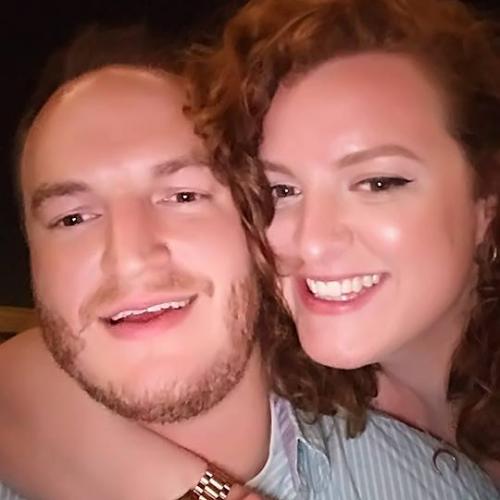 "My sister will go anywhere to celebrate the accomplishments of the people she loves.

My wife and I really wanted to be there for her, and it was amazing to cheer her on. I'm so proud of her. We're all so proud of her."
It's Easy to Get Started
The admissions requirements for our business management degree program require some prior college credit. Classes are held just one night each week from 6-10 p.m. at a location near you, and in most cases, you'll be able to earn your degree in less than two years.
You'll spend additional time outside of class to complete readings, assignments, case studies, online discussions, and group work. As an added convenience, some of your courses will be entirely online.

Your admissions and enrollment counselors will walk you through every step of the admissions process, tell you exactly what courses you need and how long your program will take, and make sure all of your credits transfer correctly.
As an business management degree student, you'll learn:
Business Law
Ethics
Accounting
Economics
Finance
Human Resources
Marketing
Public Relations
Information Technology
Project Management
Strategic Planning
If you're ready to get started, why not have a conversation with an admissions counselor? Simply request more information today by filling out the form below or by calling (800) 335-3852.
Not sure if you're ready to talk to someone yet? No problem. Explore the business management degree online and let us know when you're ready.
Do You See Parts of Yourself in Alyssa's Story?
Is there something about Alyssa's story you recognize in yourself? Drop a comment below, chat with us on Messenger, or email us at [email protected]. We'd love to know what's on your mind.