Keuka College was founded in 1890 and is located on the shore of Keuka Lake in New York state's Finger Lakes region. Keuka College is a private, undergraduate, and graduate, residential college that offers bachelor's and master's degree programs on campus and through its Evening and Online Education Program across much of Central and Western New York state, as well as international programs in China and Vietnam.
Regardless of degree or location, Keuka College graduates boast significant, real-world experience that impresses employers and graduate schools. We produce well-educated, optimistic, and resourceful people who lead lives of purpose and accomplishment.
The College's 290-acre campus hosts more than 1,100 students, approximately 300 employees, and more than 5,000 summer conference guests. It is the largest private employer in Yates County, where its annual regional economic impact is more than $110 million.
Our Mission, Vision, and Values Guide Everything We Do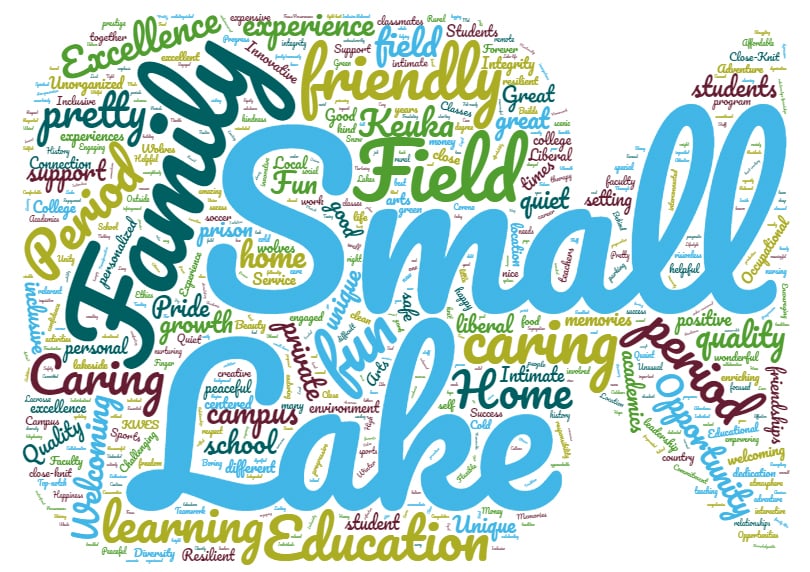 They guide every strategic, operational, and managerial decision, and are also the unifying driving forces as reflected in every educational policy and budget development.
Keuka College believes there is no substitute for the emotional maturation, social development, and increased self-sufficiency that takes place through the college experience.
The need to adapt to changing forces and circumstances, and to have a distinctive, desirable, compelling vision, is paramount, but at Keuka College, we hold steadfast to the values of student-centeredness and preparing our students to lead lives of purpose.
---
Mission
To create exemplary citizens and leaders to serve the nation and the world.
Vision
To bring strength to our nation and help to humanity.
---
Values
We honor our shared values by holding ourselves and each other accountable to:
To demonstrate our values we…
Exemplify "The Way of the Wolf."
Support each other's contributions with respect, appreciation, and care for diversity in people, culture, beliefs, ideas, practices, and experiences.
Demonstrate social responsibility and leadership as a local, national, and global citizen.
Foster personal connections.
Act with uncompromising integrity in pursuit of personal and academic excellence.
To demonstrate our values we…
Place student achievement at the center of all that we do.
Deliver quality teaching through the use of high-impact learning practices.
Excel at experiential education.
Attend to the holistic development of the student.
Foster innovation, creativity, and flexibility in our efforts to offer exemplary education and service.
Regularly evaluate our practice and make changes to better support those who are underserved.
Maintain comprehensive support services.
Provide student-focused operations.
Leverage strategic external partnerships.
To demonstrate our values we…
Identify, share, and make the most effective use of our resources.
Work together to accomplish our tasks and achieve the college mission.
Empower employees to assert leadership and engage in institutional decision-making.
Develop, prioritize and communicate our goals collaboratively.
Strive for a balanced work environment in which we are efficient and competent, but also kind and friendly.
To demonstrate our values we…
Ask questions.
Assume positive intent.
Seek new opportunities.
Change through innovation.
Engage in lifelong learning.
To demonstrate our values we…
Provide access and promote equality for all who seek to improve their lives.
Encourage our students to take advantage of the opportunity to seek their greatest potential: Making good on the American dream.
Offer a wide variety of programs and services within the means of all.
---
History
Honored by the past. Proud of the present. Focused on the future. Today Keuka College continues the original mission of founder George Harvey Ball by educating young students and adult learners "to bring strength to our nation and to help humanity" through combined classroom and experiential learning activities.
Timeline of Our History