Gwen Webber-McLeod believes her experience as an adult student at Keuka College was the difference between working for a successful business and running a successful business.
"Thriving through the College's (Online and Graduate Program) prepared me to be the CEO and president of my company," said Gwen, who earned a master's degree in management in 2006.
Overseeing her Auburn, N.Y., firm, Gwen, Inc., which assists mid- to executive-level leaders to become more effective, enabled Gwen to fulfill a longtime dream.
"I thought that if I wanted to make a difference in the world, I needed to be the boss of something," said Gwen. "So there was a pull on my spirit, but I didn't know what that would be yet."

After graduating with a bachelor's degree in social work in 1978, Gwen embarked on a varied and successful career that included roles as the director of the National Women's Hall of Fame in Seneca Falls, N.Y. and the director of communications at Wells College.

But the thought of doing something greater was still an idea she was figuring out. She also faced several hard blows in her life, what she describes as a 10-year season of grief.

"It started when my daughter, Ashley, was diagnosed with cancer," said Gwen. "I also faced the sudden death of my youngest sister, and one of my friends was a firefighter who lost his life on 9/11. But after 10 years, I'd become so bored with grieving. I started to fantasize about another business I might want to own."

And that's what sent her to Keuka College.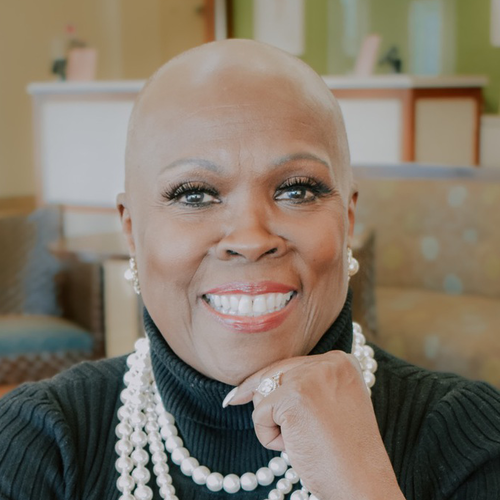 Thriving through the College's master's degree program prepared me to be the CEO and president of my company
"I heard this voice in my head say, 'The moment is now.' And I said, 'To do what?'" recalled Gwen. "But that sparked the courage to start my application to Keuka College's Online and Graduate Program for my master's degree. I thought it would fit into my already packed schedule. I was an entrepreneur, a mom of a middle-schooler and a high-schooler, I was coming out of this season of grief, and I'd been out of college for 45 years."

But she didn't hesitate. Calling her College experience "a launching pad," she appreciated that her coursework allowed her to research the idea of studying the unique experiences of Black leaders, which became the foundation of Gwen, Inc.

"It was so eminently clear that if I focused on the development of leaders of color, I could be successful," said Gwen. "The findings of my research were essential to me starting my business. I tell women, especially women of color, that they can do it and I'm evidence of that. And Keuka College will help you with that."

One of those women is her daughter Ashley. She followed in her mother's footsteps and enrolled in Keuka College. She earned her bachelor's degree in social work in 2022 and is now pursuing her master's degree.

"Going to Keuka College happened at the darkest moments of my life," said Gwen "A struggle was learning that I could trust myself and that I really could do this, even with everything else going on. It taught me that I could be academically successful. It was an ideal experience."