Keuka College's Melody Smith Johnson M'23 loves her community and she wants the people in it — particularly Black and Brown women and girls — to have the tools and opportunities they need to thrive and succeed. So she's launched three businesses devoted to doing just that.
"It's like breathing, you see a need and you fill it," said Melody. "I stand on the shoulders of so many successful Black women who gave, lived, marched, and sacrificed. So it is incumbent upon me to stand in, give back, and pull others forward."

Melody doesn't just provide opportunities, she utilizes them. Case in point: She took advantage of Keuka College's Evening and Online program to earn her master's degree in Management. As a bonus, her College experience provided her an opportunity to foster connections with a whole new community.

"I created an email group with a few women in my class and we've gotten to know each other, support each other, and hold each other accountable," she said. "It was refreshing to come into this community where people are still pressing to advance their lives."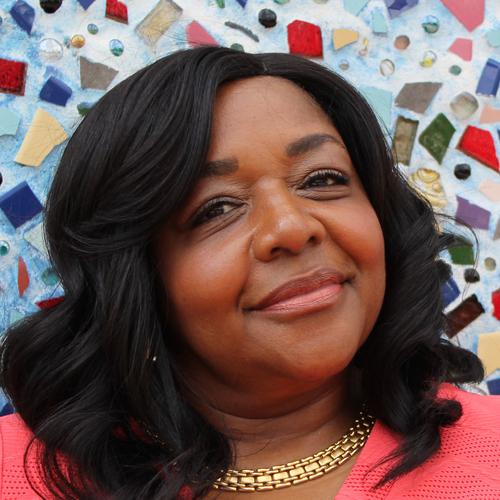 "Keuka College has given me a perspective that I didn't have before, except as a mentor and coach. It gave me an opportunity to exercise, share, and test what I know. It's not been easy, but it has been worth it. Keuka College is a safe, encouraging environment that lets me learn and grow together with my classmates."
Advancing lives is Melody's life's work. She began the Beverly L. Smith Initiative to assist young Black and Brown women in taking the leap from high school to college — often, as the first in their families to do so — through mentorship, scholarship, and entrepreneurship coaching. She also owns Divine Coverings LLC, which designs products specifically for women, and Melody's, a co-working space for women entrepreneurs.

In fact, her impact on her community has been so consequential, the Cayuga County (N.Y.) Legislature used the ribbon-cutting ceremony for the July 28, 2022, opening of Melody's to declare that date Melody Smith Johnson Day.

"It was something," she said of the honor. "I am the first Black woman in Cayuga County to open this type of business, which is all about building community."

In building community, both at home and among her College colleagues, Melody demonstrates one of Keuka College's core values: Open Doors to Opportunity. Thanks to the College and professors she lauds as "amazing human beings," Melody has been able to sharpen not only her professional skills but her community-building acumen.
"... I will say to anyone who is looking to level-up their education that Keuka College is amazing."
Interested in our Evening & Online Programs?
Fill out the form below to connect with us!