It was Tomsk, Russia in the summer of 2005. Elena Hibbard walked through the door, cradling a book about learning English in her arms.
"Where'd you get this?" asked her daughter, Ekaterina. "And why? Are you going to learn English?"
Elena looked at her daughter with determination in her eyes. "Yes, I am," she said. "And we're moving to America so you and your sister can have bigger opportunities in life."
Ekaterina thought it was a joke. But then, just two years later, Elena and her two young girls picked up their lives and moved to Bath, New York.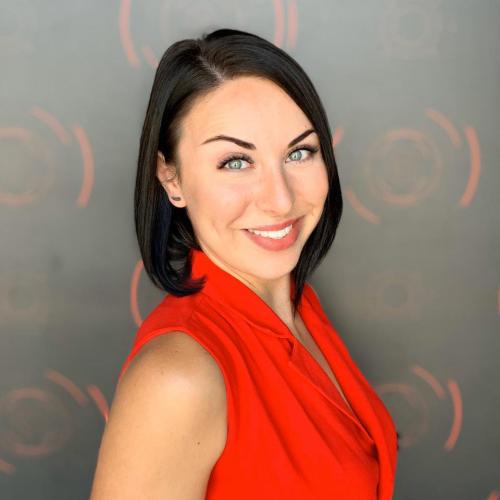 With two kids and minimal knowledge of English, my mom made a move that forever changed our lives.
Answering a Calling to Teach and to Help
Elena was a piano teacher and art school principal in Russia. As she worked to provide for her family in their new country, her English improved. Finally, she set her sights on a higher education.
There was a great need for nurses, and she thought that by becoming one, she could still teach in some capacity while also helping people. Instead of chords and arpeggios, she'd be teaching people how to take better care of themselves.
Elena earned her associate's degree, became an RN, and took a job as a nurse working nights at Arnot Ogden Hospital in Elmira.
It was a start, but Elena knew she could do better — a better education, better patient care, a better schedule for her family.
That's what led her to Keuka College.
Nursing Programs That Fit Her Life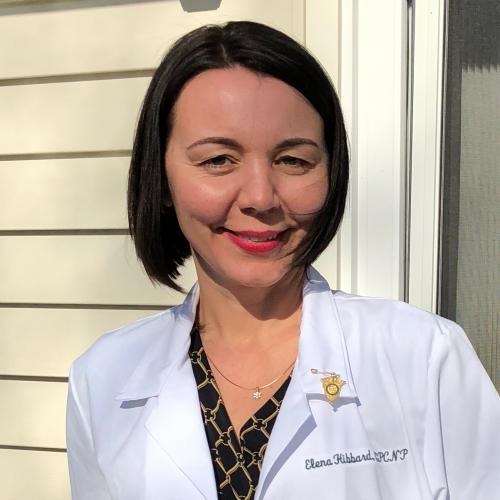 Keuka College is good for working people, and it's close to home.
Elena attended a Keuka College information session at the hospital, where she learned about the evening and online RN to BSN program, as well as the Adult/Gerontology Primary Care Nurse Practitioner program.
Elena thought both of those sounded like a perfect fit.
She jumped right into the RN to BSN program, which is designed for working RNs with families and busy schedules. As soon as she graduated, she immediately enrolled into the Adult/Gerontology Primary Care Nurse Practitioner program.
"I liked that the College offers classes one night a week, and you take one class at a time," she says.
By earning her degree, Elena felt better equipped to help her patients get the care they need, and teach them ways to take better care of themselves.
"Keuka College's program is professional, structured, organized, and the professors are all very helpful," says Elena.
"The program was well thought out and I couldn't have hoped for a better program. It was tough and rigorous coursework but, to me, it was worth it. I thought of my end goal, and I did what I needed to accomplish it."
The Support She Needed
Elena had plenty of help and support to help her through the program.
Keuka College's RN to BSN program follows a cohort model, which allows students to learn and grow with the same group of other working nurses.
The cohort becomes a family, as students study, plan, and complete group assignments together. Cohorts comprise nurses from all different backgrounds and professional settings, providing a diverse and unique academic experience.
Elena also had a lot of support from her actual family — both of her daughters; her husband, Tim; and her sister and brother-in-law, Olga and Lawrence Wilson.
"I was working full time, and I was a student full time, and it was a lot of work," she says.
"But I was determined, and I had my goal in mind, and I knew that I could do it."
My mom put so much hard work, sweat, and tears into this very difficult program.

I remember all of the long nights and weekends it took her to study, translate, and write papers.

But she did it, and it proved once again, if she wants something, she will work hard to get it.
A Lifetime of Success
"Nursing is a needed profession, and I like having a personal relationship with each of my patients," says Elena, now a nurse practitioner at the Bath VA Medical Center. "Since I have my degree, I can do so much more to help patients get healthy and stay healthy."
Looking back over her journey, Elena is proud of what she has accomplished, including learning a second language.
"If you put your mind to it, you can do anything," she says. "I knew that I needed to go to school in order to accomplish my goals. I feel like if you look at me, and I can do it, you can too. I look back and I feel good."
And there's no doubt — at all — that she was a solid role model for her girls. To know that, all you need to do is read her daughter's Instagram post from graduation day...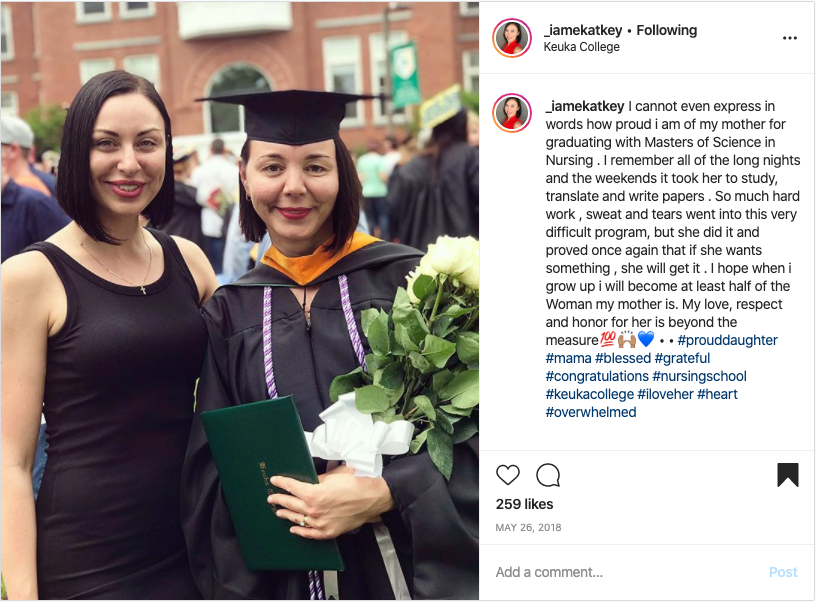 It's Easy to Get Started
The admissions requirements for our RN to BSN program require you to be a working Registered Nurse (RN), while the Adult/Gerontology Primary Care Nurse Practitioner program is designed for nurses who already have a bachelor's degree. Classes are held just one night each week at a location near you, and in most cases, you'll be able to earn your degree in less than two years.

Your admissions and enrollment counselors will walk you through every step of the admissions process, tell you exactly what courses you need and how long your program will take, and make sure all of your credits transfer correctly.
If you're ready to get started, why not have a conversation with an admissions counselor? Simply request more information today by filling out the form below or by calling (800) 335-3852.