Advance Your Nursing Career and Enhance Patient Care
Keuka College's RN to BSN program is designed to give RNs like you the opportunity to advance your career and enhance the level of patient care you provide. The program empowers you to explore new health care opportunities through hands-on experience, research, and evidence-based practice.
The program builds upon your foundation in nursing to support the professional expectations of an advanced career in health care. Academic advisers provide one-on-one support and dedicated mentoring throughout the duration of the program to give you an exceptional educational experience.
The accelerated program format accommodates the busy and often chaotic schedules of your profession, allowing you to complete your degree faster and with fewer obstacles.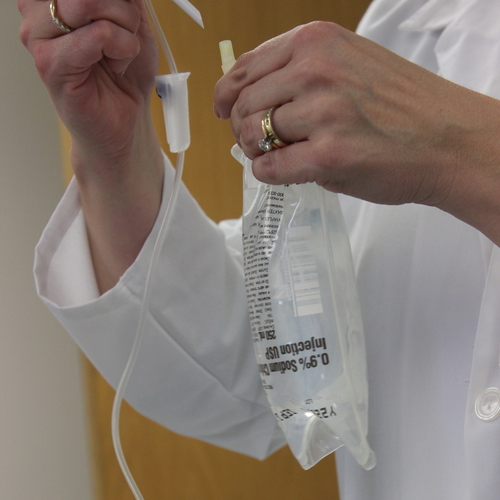 Prepared for Any Challenge
Why does Jennifer Bradt credit her Nursing degree for positioning her to navigate the COVID-19 pandemic as a health care professional?
Learn More About the RN to BSN Degree
Field Period®: You'll have the opportunity to explore your field of interest while building your knowledge and enhancing your skills to meet the baccalaureate competencies as outlined by the American Association of Colleges of Nursing (AACN).

International Potential: Each year, faculty from the Division of Nursing lead a group of Keuka College nursing, occupational therapy, and social work students on a transformational overseas trip. Previous trips have included a focusing on mindfulness in Ireland to treating patients in the Dominican Republic. As a student, you'll have the opportunity to share in this experience and do good around the world.

Cohort Model: You'll learn and grow alongside the same cohort of working RNs throughout the entire program. Many of our graduates say the cohort model is a strength of the program, providing a mechanism for support and encouragement from colleagues and a rich professional network after graduation.

Exceptional Faculty: Your nursing professors will be actively practicing nurses and nurse practitioners, all of whom will enrich the classroom with modern-day theory and techniques.

Flexible Future: As a graduate of the program, you'll be poised for success in a future master's program, should you decide to focus your practice on nursing education or adult/gerontology primary care.

History of Excellence: Keuka College has been a leader in nursing education for more than 75 years.
Keuka College's program provides working nurses like you the opportunity to earn your RN to BSN without sacrificing time at work or with your family.
You can earn your bachelor's degree in less than two years. Best of all, our evening and online format means you'll get the benefits of face-to-face instruction combined with the flexibility of online.
How Does Evening & Online Work
Attend face-to-face class just one night each week for 4 hours at a location close to home or work.
Complete assignments and readings online when it fits your schedule.
Earn your degree in just 18 months.
We make it as convenient as possible for working nurses like you to earn their BSN. Here's what you need to know about the admissions process.
Prior Education Requirements
Completion of an associate's degree, or 60 or more transferable credits from an accredited institution.
Minimum cumulative grade point average of 2.5 on a 4.0 scale.
Licensure & Work Experience
Applicants must hold an unencumbered NYS license and current registration as a Registered Nurse (RN).
Applicants must be currently working as an RN either full- or part-time.
Application Process
Complete the online application for admission.
Pay a non-refundable $50 application fee.
Send official transcripts for each college or university attended.
Keuka College offers rolling admissions meaning we will review applications as they come in until the program is full. We strongly encourage applicants to submit all required materials as early as possible. We recommend submitting applications by December 1 for programs starting in the spring semester and July 1 for programs starting in the fall.
Worried About Something?
We realize one size never fits all. If there's something on your mind, reach out to us and let us know! Give us a call at (315) 279-5254 or 1-800-335-3852 or by email at [email protected].
Through research and evidence based practice, health promotion, group collaboration, and leadership training, you'll gain the personal and professional confidence needed to become a baccalaureate-prepared nurse.
You'll take courses in professional development, leadership, business planning, health assessment, and more―all designed to enhance your role as a nurse and to help you look at your practice in new ways and with new skills.
To review a full list of program requirements and course descriptions, please see the Keuka College Record's information on the RN to BSN program.
The Keuka College Nursing for RNs (RN to BSN) program is accredited by the New York State Board of Regents and the Commission on Collegiate Nursing Education (CCNE).
The CCNE address is:
Commission on Collegiate Nursing Education
One Dupont Circle NW, Suite 530
Washington, DC 20036
Telephone: (202) 887-6791
Keuka College is accredited by the Middle States Commission on Higher Education.
Those with questions may contact the organization at:
Middle States Commission on Higher Education
3624 Market Street
Philadelphia, PA 19104
Telephone: (267) 284-5000
The Middle States Commission on Higher Education is an institutional accrediting agency recognized by the U.S. Secretary of Education and the Council for Higher Education Accreditation.
Your Nursing professors are accomplished academics and seasoned clinicians. They'll combine theoretical concepts with real-world, clinical expertise to give you the best Nursing education possible.
Contact Information
What Nurses Say About Our Programs