Keuka College's Brittani Baker has a passion for helping others. Wanting to pursue higher education, the Lyons resident enrolled in Keuka College's Bachelor of Social Work program through Adult and Online Education, designed to help working adults earn a College degree.
"I chose Keuka College because many of my family members are alumni," says Brittani, a member of the Class of 2022. "I also liked the AOE program, which allowed me to still work while taking classes, and eventually stay home with my daughter after she was born."
Brittani's daughter was born about a year into the 21-month bachelor of social work degree program.
It was very stressful, and I had a difficult pregnancy. I didn't know how I would balance everything. But I knew I needed to earn my degree for my daughter.
She credits the structure of the College's cohort model with helping her to balance work, family, and instruction.
"The smaller group of individuals allowed us to be much closer with each other. We went through many life changes during our time together," says Brittani, who took classes at Finger Lakes Community College, one of Keuka College's partner schools.

While helping others is what drew Brittani to pursue social work, she has a particular interest in working with children and individuals with disabilities. For her social work internship, a 13-week placement with a social service agency, Brittani served at the Victor/Farmington Food Cupboard from July 2020 to January 2021, during the heart of the coronavirus pandemic.

The experience was a happy detour, of sorts. Brittani originally intended to fulfill her placement at the Center for Disability Rights.
But a few weeks before she was scheduled to start, the placement was discontinued due to the pandemic. Brittani then turned to Associate Professor of Social Work Julie Burns, who "was amazing during this time, keeping in contact with me about places that came up."
Once at the cupboard, Brittani threw herself into her new duties, helping those with food insecurities get what they needed for themselves and their families. From overseeing drive-through pick-ups for shoppers, to taking donations, to stocking shelves, to making deliveries, if it can be done at a food pantry, odds are Brittani did it. She also met the specific challenges of operating in the teeth of a pandemic.
"My supervisor Karen [Guidarelli, director of the Food Cupboard] and I started a new option with helping shoppers get their food," says Brittani. "We created an Instacart-style option for shopping. Customers made appointments or called from their cars, and volunteers would do the shopping for them. We also ended up seeing an increase in elderly shoppers who had not been coming out because they were nervous about contracting COVID-19."
While older and less-well-off patrons didn't surprise her, Brittani did not expect to see what she describes as middle-class shoppers, something she attributes to the loss of employment due to the pandemic.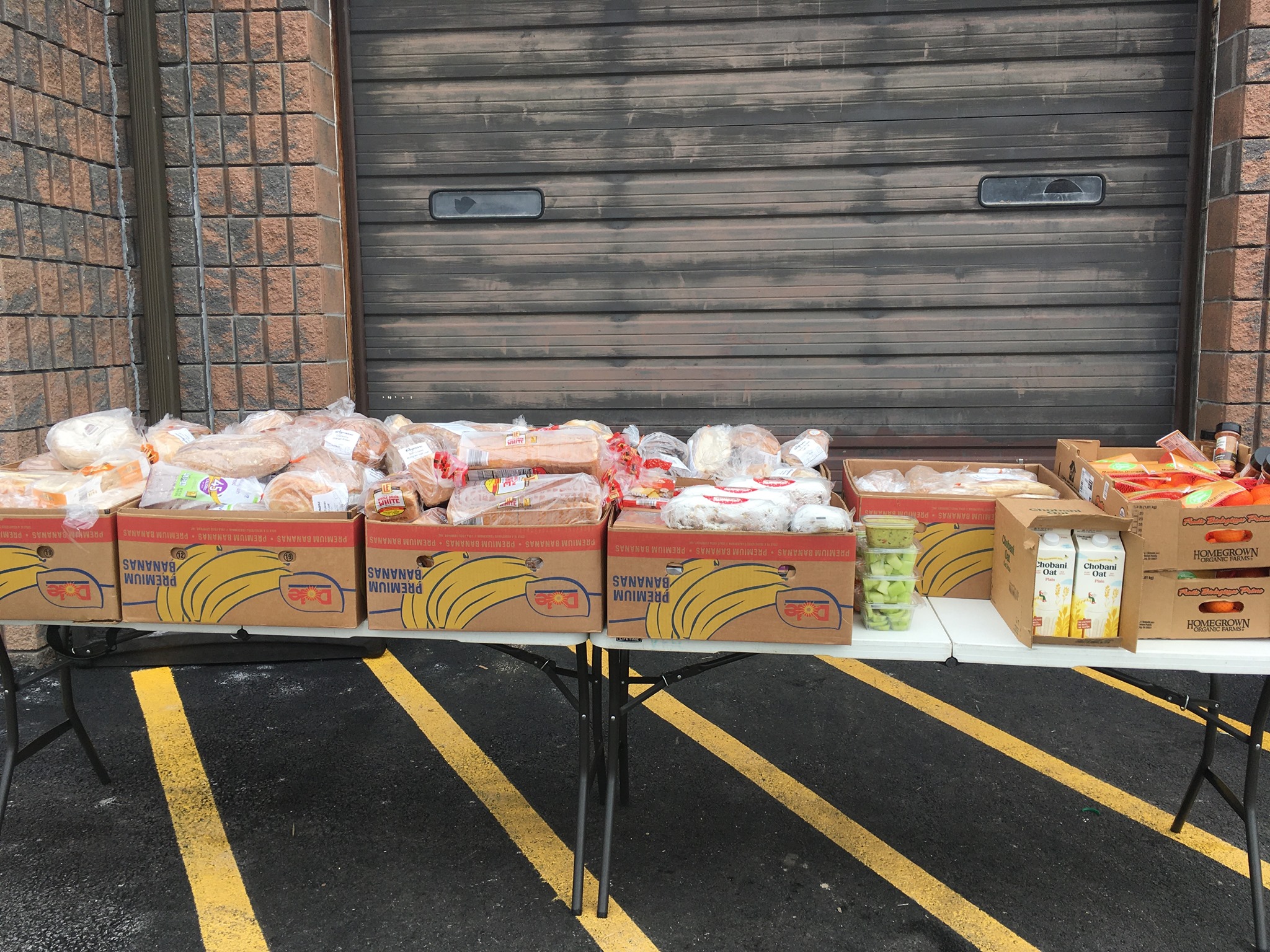 "I realized that people from all walks of life used the food pantry," says Brittani, who credits the real-world social work practice she obtained during her internship as greatly expanding her understanding. "I don't think classes can fully prepare you for an experience like this, especially during a pandemic. But I was glad to meet people, interact with them, and learn about their different backgrounds."
Since her practicum, Brittani has kept in touch with many of the people she worked with and has offered to help whenever she can. She has even used the experience in her current role as a care manager at the Finger Lakes Area Counseling and Recovery Agency for Children's Health Homes of Upstate New York.
I connect families to services and resources, and the food pantry is one I use quite often. My internship taught me that there are so many people who have different experiences in life, and we really can't pass judgment on a person.
The Victor/Farmington Food Cupboard serves all of Ontario County and, on average, more than 600 families per month. In addition to providing access to both fresh and canned foods, the Cupboard also offers personal grooming supplies.
Like Brittani, you can attend Keuka College's BSW program in a hybrid model. You will attend face-to-face classes close to home in Rochester, Watertown, Syracuse, Elmira, or Canandaigua, then complete homework, assignments, and other coursework online during the week. Click here to learn more.
Keuka College also offers its MSW program in a hybrid format. Like the BSW program, you will attend face-to-face classes close to home in Rochester, Syracuse, or the Finger Lakes, then complete homework, assignments, and other coursework online during the week. Click here to learn more.
Ready to Learn How Our Social Work Program Might Be a Good Fit For You?
Fill out our form to connect with us to find out more!