Make a Career Change and Start Becoming a Social Worker Today
If you're interested in becoming a Social Worker and already have a bachelor's degree in another discipline, our MSW Foundations program will prepare you with the knowledge and hands-on experience you'll need to become an outstanding practitioner.
The U.S. Bureau of Labor Statistics reports an above-average demand for Social Workers in the next eight years. The MSW sets you up for success by building your background in appropriate communication and conduct, the National Association of Social Work (NASW) code of ethics, and an introduction to diverse populations and their needs.
You'll be prepared to deliver effective, advanced psychotherapy and psychosocial services in a variety of settings dealing with mental, emotional, and social issues. You'll also have the education necessary to seek state licensure to enter private practice.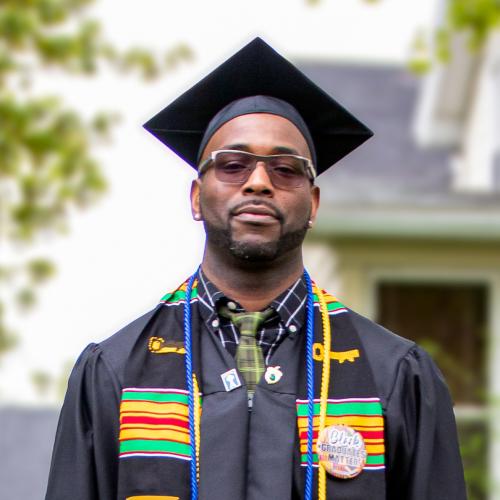 We'll Help You Make a Difference
When Caswell Smith '19 decided, "I want to be that one person in someone's life who makes a difference," he knew Keuka College would help him hone his social work skills.
Today, he's improving lives in the Rochester City School District.
Learn More About MSW Foundations
We make it as convenient as possible for working adults like you to start on the path of becoming a Social Worker.
Admissions Requirements
Hold a bachelor's degree from an accredited institution
Have a minimum cumulative grade point average of 3.0 on a 4.0 scale
Have a C or better in writing, statistics, and human biology courses
If you have a bachelor's degree in Social Work from a CSWE-accredited institution, you're eligible for the Advanced Standing MSW program and do not need to complete the Foundations year.
How to Apply
Complete your Application for Admission online
Submit all official transcripts from each college or university you've attended
Submit all supplemental items (2 letters of recommendation, current résumé, and essay)
Pay your non-refundable $50 application fee
Keuka College offers rolling admissions; however, graduate programs that require a field practicum must allow additional time to arrange individual placements. We strongly recommend that graduate applicants apply by February for the best opportunity for a preferred practicum site for 2021 programs.
Worried About Something?
We realize one size never fits all. If there's something on your mind, reach out to us and let us know! Give us a call at (315) 279-5254 or 1-800-335-3852 or by email at [email protected].
The Keuka College MSW Foundations program is designed for those with a bachelor's degree in a discipline other than Social Work to graduate prepared to practice.
The Foundations component is 11 months of full-time coursework on our home campus, focused on building your knowledge base and experience in the field.
After you complete the Foundations year, you can choose to finish the rest of your MSW as either a full-time student on our home campus (completed in an additional 9 months) or in a part-time format at one of many locations throughout New York State (completed in an additional 20 months).
Your MSW Foundations year includes a number of courses to introduce you to generalist social work practice, blending theory with practical application.
Our experienced faculty will guide you in developing skills within the framework of the National Association of Social Workers Code of Ethics. Areas you'll explore include:
Human Behavior (Psychology and Sociology)
Ethics and Diversity
Social Policy
Research Methods and Practices
Clinical Field Placement
Focus Your Practice
Choose one of the following electives to help fine-tune your practice around your areas of interest.
Keuka College's Master of Social Work is accredited by the Council on Social Work Education's Board of Accreditation.
Accreditation of a baccalaureate or master's social work program by the Council on Social Work Education's Board of Accreditation indicates that it meets or exceeds criteria for the assessment of program quality evaluated through a peer review process. An accredited program has sufficient resources to meet its mission and goals and the Board of Accreditation has verified that it demonstrates compliance with all sections of the Educational Policy and Accreditation Standards.
Accreditation applies to all program sites and program delivery methods of an accredited program. Accreditation provides reasonable assurance about the quality of the program and the competence of students graduating from the program.
Learning Outcomes
The Council on Social Work Education (CSWE) requires all programs to measure and report student learning outcomes. Students are assessed on their mastery of the competencies that comprise the accreditation standards of CSWE.
Each of your professors will be highly experienced clinicians and credentialed academics. Not only will you learn textbook theory, but you'll also gain valuable experience and knowledge of the trends and upcoming needs gleaned directly from daily clinical practice.
Contact Information