Geneva lost a community pillar early this year – one with a notable Keuka College connection.
James Richmond Jr. was many things: A successful businessman, a civic leader, a founding member of the Mt. Olive Church, a champion of higher education, and an elder statesman in the Black community.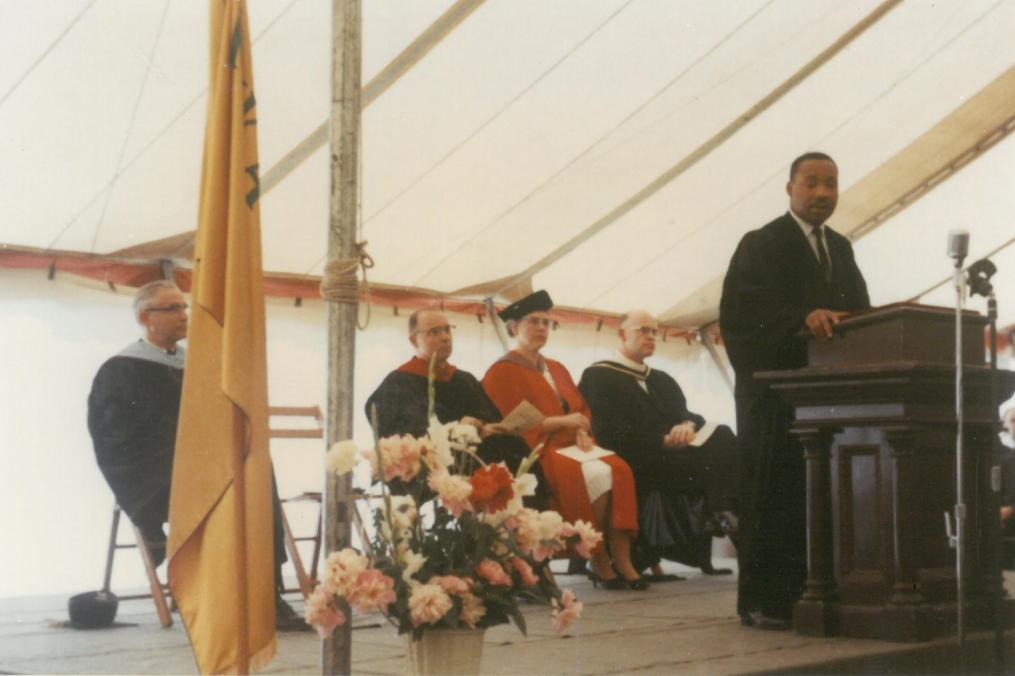 As the Finger Lakes Times recounted this month in a tribute to Mr. Richmond, who died in January at age 89, it was this final role that brought the Civil Rights activist to the Keuka College campus for two auspicious occasions.
Having founded Geneva's NAACP chapter in 1959 to take on issues such as unfair hiring practices, limited housing, and segregation, Mr. Richmond jumped at the chance to meet his hero, the Rev. Dr. Martin Luther King Jr., when he gave the College's 1963 baccalaureate address.
Set your goal and make your goal.
Following the address, Mr. Richmond attended a luncheon at the College in honor of King.
"(He) went up and introduced himself to the civil rights leader and ended up speaking with him for about 45 minutes," the Times wrote. "The memory of that meeting sustained (Mr. Richmond), who left with a luncheon program signed by King and his wife that is now a family heirloom."
"He talked about that (meeting) until the day he passed," Mr. Richmond's son, Jim Richmond III, told the Times.
Indeed, he recounted it some 55 years later on the campus where it took place. When a recording of Dr. King's Keuka College address, long believed lost to the ages, turned up in the summer of 2017, a public listening event was planned. Mr. Richmond joined hundreds of College and community members who filled the College's Norton Chapel in February 2018 to hear the recording of Dr. King: "I need not pause to say how very delighted I am to have the privilege and opportunity of being here today and being on the campus of Keuka College. …"
He also took part in a post-broadcast discussion about Dr. King and his Keuka College visit, recounting his private talk with the Civil Rights leader and the impression it made. Dr. King's advice to him, Mr. Richmond told the audience: "Set your goal and make your goal."
In his church, in his profession, and in his community, Mr. Richmond did just that.