Newly minted Keuka College graduate Rebecca Cramer '22 combined the College's newest academic program with its storied Field Period® internship to kick-start a career in her chosen field of finance.
Rebecca graduated in December, becoming the very first student to earn a degree in the College's new Applied Mathematics & Finance major. From there, she was hired as a Client Service Specialist with the certified financial planning firm of Tim Riemer & Associates in Lockport, N.Y.

Rebecca took a familiar path to employment for many Keuka College students: she secured a Field Period at the company in the summer of 2022 and they never let her go.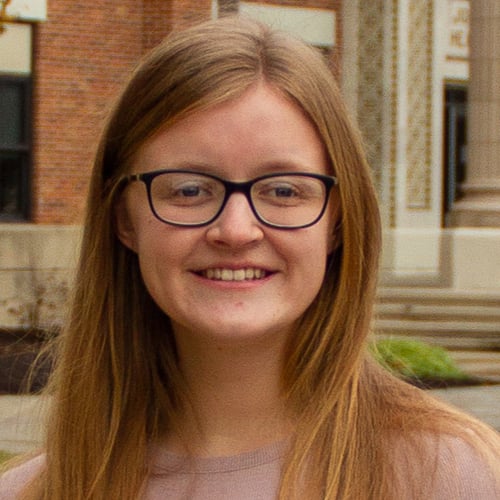 "I did my 120 hours and then they wanted me to stay the rest of the summer. So, I did that. And then they offered me a job when I finished my studies."
Field Period – the College's one-of-a-kind investment in experiential learning that enables students to sample careers before they graduate – has been a pipeline to job opportunities literally since it was established 80 years ago. In fact, back in December 1942, Dr. Julia Lobotsky '43 was offered a full-time job at Eastman Kodak Co. after taking part in the very first Field Period program.

Rebecca's new employer, Tim Riemer, said he was impressed with her background, education, and poise.

"She worked side by side with our full-time assistant and pretty closely with me in meetings," he said. "She's comfortable with technology and was able to just jump right in."

Rebecca, who started her new job on Jan. 3, said she's been interested in a career in finance for as long as she can remember.

"My parents did a great job of teaching me how to handle money – how to save money – and made sure I had my own bank account," she said. "I've had a job since I've been able to have jobs and the paycheck has always gone right into my bank account. I just really value managing money."

That's exactly what she'll be doing in her new role as she advises clients in managing their financial portfolios. And it's what she hopes to do on an even grander scale later in her career, as she plans to add an MBA over the next decade en route to her dream job of becoming a Chief Financial Officer.
Rebecca said the College's Applied Math & Finance degree – combining a solid understanding of mathematic principles with the real-world applications involved in finance – has provided her with exactly the foundation needed to pursue her goals. And the instruction came courtesy of a strong and supportive faculty.
"I could not have done it without my advisor and professor, Dr. Catherine Abbott," she said. "She influenced me, and she's a really great teacher. She's always there for you to make sure you understand everything. And she seems like one of my biggest fans for being the first Applied Math & Finance graduate."
Between Dr. Abbott; Keuka College's Chair of Natural Sciences and Math, Dr. Michael Keck, who hails Rebecca as "one of our groundbreaking students;" and her new colleagues at Tim Riemer & Associates, Rebecca's fan base is growing. And she owes it all to becoming Keuka College's pioneering Applied Math & Finance graduate.
"It was a great decision," she said.
Interested in Our Applied Mathematics & Finance Program?
Fill out the form below to connect with us!