Thanks to Keuka College's exploratory program and your annual internship experiences, you'll be able to explore and experiment to discover the right major and career path for you.
The best place to be undecided about what you want to study is right here at Keuka College. The exploratory path provides the foundation to build strong critical thinking skills as you encounter a wide range of hands-on learning opportunities.
Throughout your first-year courses and your first Field Period® experience, you'll be able to try things out, discover your passion, and build confidence along the way. And our Career Development team is here to help you assess your interests, find your strengths, and discover professions you may not have ever heard about.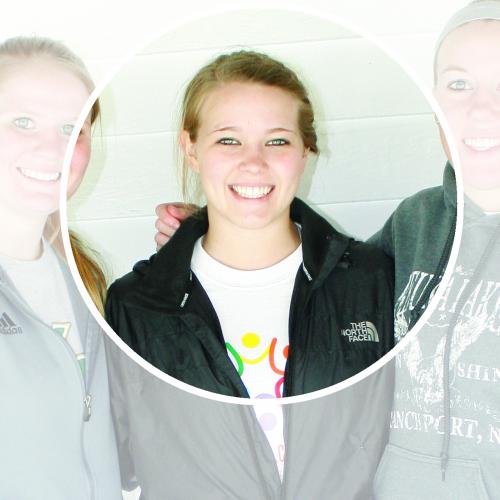 Meet Nicole Browe
Unsure what degree she wanted to pursue, Nicole Browe chose to enter Keuka College in the exploratory program. "I wanted to discover what I could see myself doing in the future, and I knew it would give me options instead of committing right away," she says.
"That first semester was nice because of classes like business and theatre that I would never have taken if I'd started off in just one field." Thanks to her first Field Period®, Nicole worked with two school psychologists and a speech therapist. Shortly after discovering this new passion for psychology, Nicole chose it as her major.
Explore Program Areas
When you're ready to declare a major, and you'll need to do so by the end of your sophomore year, Keuka College has more than 35 from which you can choose. Our majors are grouped into the following areas:
Business and Management
The many fields within business and management will prepare you for key roles in a wide range of business ventures including corporate executive, bankruptcy specialist, CPA, sales and marketing rep, human resources manager, or sports management professional.
Criminal Justice and Forensics
This area includes important aspects of social science, criminal investigation, research methods, and psychology in order to prepare you for multi-faceted roles in government agencies, courts, law enforcement, and human services.
Education
All of our education programs prepare you to work with students across the full continuum of regular and special education. You'll be on the cutting edge of exciting changes in the education field, such as how technology is used in the learning environment.
Health and Human Services
As a graduate, you'll be prepared for careers that combine caring for individuals with practical tools and supports such as medical training or social services. Succeed in fields such as community wellness, child and family services, medical technology, nursing, occupational therapy, physical therapy, physiology, public health, social work, or research.
Humanities and Fine Arts
A wide variety of majors and minors will teach you to communicate well, express your creativity, and think analytically. Major in English, communication studies, art and design, or American Sign Language–English Interpreting. Minors such as creative writing, theatre, or Spanish and cross-cultural studies pair nicely to give you a competitive edge.
Law and Social Sciences
This area emphasizes the disciplines of psychology, sociology, history, law, and political science. If you hope to pursue a career in public policy, family counseling, child protection services, government relations, politics, or within the legal system, this may well be the field for you.
Natural Sciences and Math
Gain the skills and knowledge for a career in research, health care, chemistry, data analysis, environmental management, conservation, medicine, and other disciplines. Prepare to pursue further study in applied science or math to work as a doctor, veterinarian, chiropractor, pharmacist, or medical clinician.
Meet Jake Banas
As an incoming freshman, Jake Banas had no idea what to study, so he chose to start in the exploratory program. After a few classes in education, he conducted his first Field Period® at a school to see if teaching might be a good fit.
It wasn't, so he tried some classes in another field. Ultimately, he chose dual majors in English and communication studies, and leveraged a personal passion for emergency medical care into his final Field Period® at an Albany hospital. Not only did Jake graduate on time, with a job offer, but he served the local ambulance corps as a certified EMT while still a student.
Exploratory Field Period® Experiences
Undecided students have some of the best Field Period® experiences at Keuka College — and it's because they approach every opportunity with an open mind. Here are some recent placements:
Office of U.S. Sen. Charles Schumer (D-NY)
San Francisco 49ers
Disney College Program
Veterans Affairs Medical Center
Burberry, Ltd.
Norwich Police Department
Watkins Glen International
Speedway
Child Advocacy Center
North West Essex Community Health Care Network
Buffalo Zoo
Falconer Central School
Children's Home Society of Florida
New York State School for the Deaf
Dixon-Schwabl Advertising
M&T Bank
Local Headstart Programs
Bristol Valley Theater
Corning, Inc.
Xerox Corp.
Keuka College
D.R.I.V.E. Program
Bridges For Brain Injury, Inc./Wildlife Rockstars Direct