What If You Become Ill With COVID-19 Symptoms?
People with COVID-19 have had a wide range of symptoms reported – ranging from mild to severe. Symptoms may appear two-14 days after exposure to the virus. People with these symptoms may have COVID-19:
Fever or chills
Cough
Shortness of breath or difficulty breathing
Fatigue
Muscle or body aches
Headache
New loss of taste or smell
Sore throat
Congestion or runny nose
Nausea, vomiting or diarrhea
---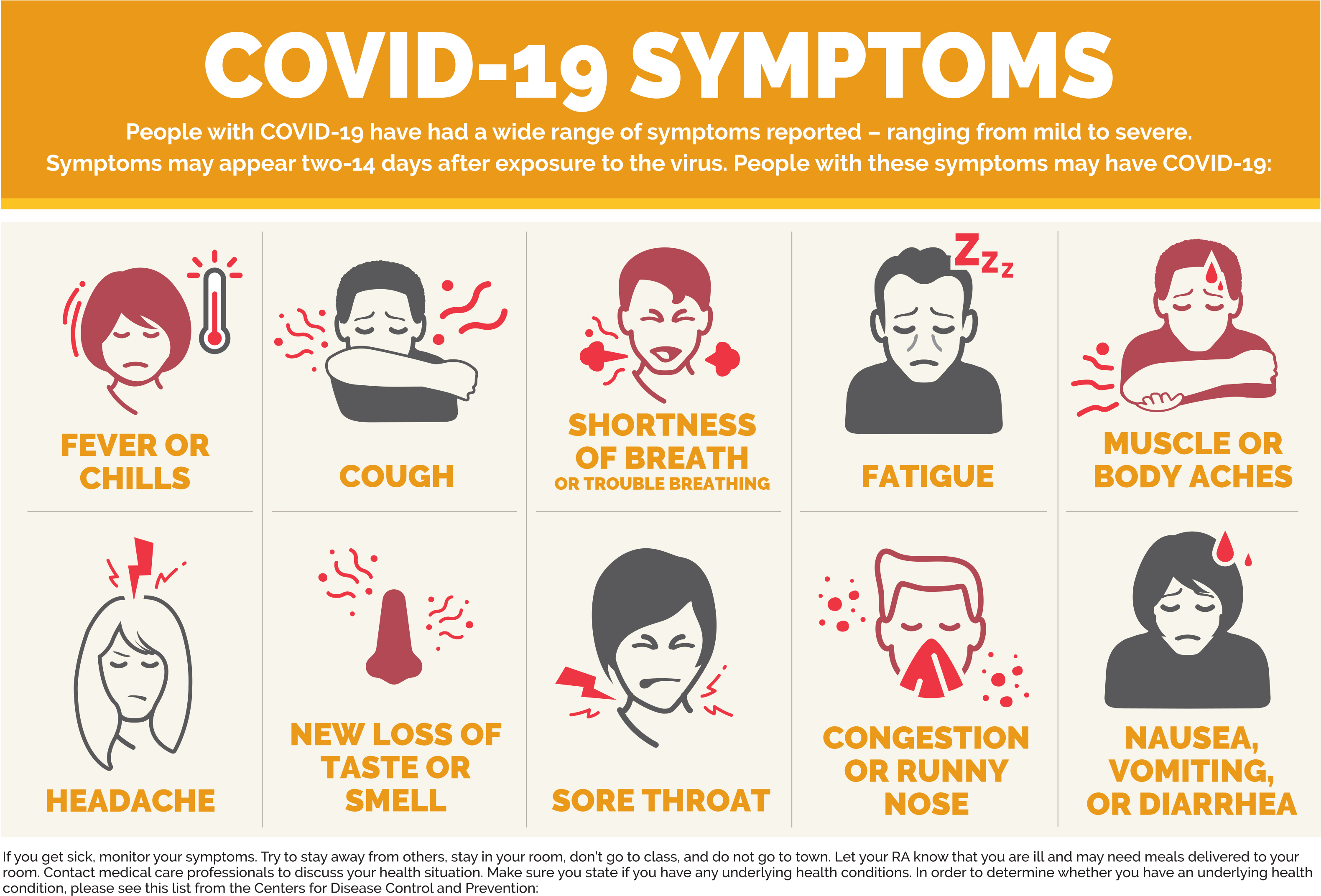 ---
If You Get Sick:
Wear a face mask at all times.

Tell your RA immediately and email [email protected].

Avoid contact with others.

Health and Counseling Services will contact you. If you are an employee, you will also be contacted by the Office of Human Resurces.

If you are experiencing an emergency seek medical help immediately.
Get More Information On What To Do Here
---
Local Medical Practitioners
Keuka College Health and Counseling Center
Keuka Commons
315-279-5368
Open Monday-Friday, 8 a.m.-4:30 p.m.
Finger Lakes Health Urgent Care
789 Pre-Emption Road
Geneva, NY
315-781-2000
Open seven days a week, 8 a.m.-8 p.m.
Soldiers and Sailors Memorial Hospital Emergency Room
418 North Main Street
Penn Yan, NY
315-531-2000
Open 24 hours a day, seven days a week
---
Quarantine or Isolation
If you become ill with COVID-19 symptoms, you will be moved to a designated quarantine or isolation space in Blyly Hall. You must remain in that location until you have been cleared by Yates County Public Health to go back to your residence hall room. This could take seven to 14 days. Your meals will be delivered and you will take classes online, in your room as you are able. You will be able to bring items from your residence hall room to make yourself comfortable.
In the event an individual tests positive, contact tracing will be completed in collaboration with the Yates County Health Department. Confidentiality will be maintained as required by federal and state laws and regulations.