Explore the Science of Life with a Biology Degree
What is life? Biology is a lot more than dissecting frogs or looking at slides under a microscope. As a biology student, you'll gain a practical knowledge of how living things work, from molecules to populations; the know-how to operate scientific equipment; and analytical and problem-solving skills that will stay with you for a lifetime.
A biology degree prepares you for the study of living organisms and offers a wide variety of options for graduates. You can focus your studies, research, and Field Period® experiences on medicine, genetics, live cells, agriculture, ornithology, ecology, diseases, or microbiology.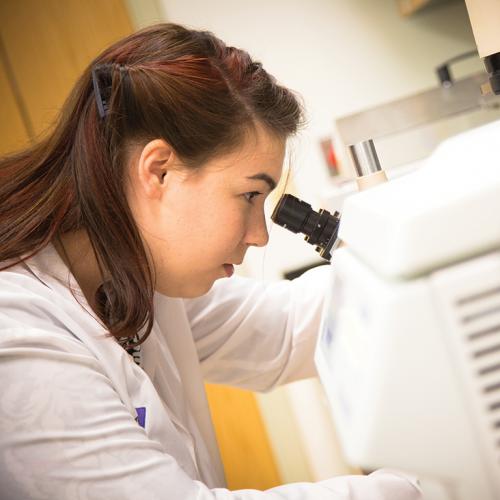 Get Real Biology Experience
Real-world, hands-on experience is an important part of your Biology degree.
The Keuka College Field Period® gives you the chance to have four separate Biology internships, starting your freshman year.
Program Overview
Biology Major
If you choose to major in biology, you'll also earn a concentration in biomedical studies.
Your biology degree will prepare you, through study and hands-on research, for careers or graduate study in biology, biochemistry, ecology, education, medical technology, medicine, microbiology, pharmacology, physical therapy, physiology, plant sciences, public health, veterinary medicine, or scientific research.
An impressive number of our biology graduates have gone on to to get advanced degrees from veterinary schools, pre-health programs, and research-related graduate programs.
Biology Minor
No matter which major you choose, a minor in biology will provide you with the ability to analyze the surrounding world by generating and testing hypotheses, analyzing data, and drawing conclusions.
The biology minor also provides a useful background in the sciences if you're interested in pursuing a career in law, health care management, criminal justice, social work, or psychology.
Learn More About the Biology Program
Undergraduate research opportunities, both on-campus and off, have included development of surfboard polymers, the ecology of birds, studies within a cancer lab, and more.
For example, students and faculty can use PCR (the polymerase chain reaction) to make copies of DNA from a variety of plant, animal, and bacterial sources, then sequence the DNA isolated in the laboratory. This technique can help us understand plant pathogens, figure out what we are really eating, and more.
Our students have presented their work at regional and national scientific meetings and have even traveled to Australia to help in one of the world's leading schizophrenia research laboratories (which happens to be run by a Keuka College alumna... watch her TED talk below!).
Keuka College is on the shore of Keuka Lake—arguably the prettiest of the Finger Lakes. The College's Sunset Woods and the nearby Penn Yan Outlet Trail are home to thousands of species of plants and animals, providing an ideal environment for biology students. Ornithology students are able to work in the field, identifying birds native to the area.
You'll get to study in the Jephson Science Center, where students hang out in the Chiral Center or at the Math Table in between classes and labs. A highlight of the building is that the laboratories weren't simply designed in collaboration with architects, but by the professors who use and teach in them.
Our students have access to a wide range of instruments, including:
Ultraviolet-visible Spectrophotometers
Sorvall High Capacity Centrifuge
Opti-sciences Chlorophyll Fluorometer
Kodak Gel Imaging and Documentation Systems
Bio-rad Gel Electrophoresis and Western-blotting Apparatus
High Pressure Liquid Chromatograph
Gas Chromatograph - Mass Spectrometer
Fourier Transform Infrared Spectrometer
Environmental Chamber and incubators
Biosafety Cabinet
Nikon Compound and Stereo Microscopes with Digital Camera
Nikon Inverted Microscope
End-point Thermal Cycler
Real-time Thermal Cycler
Chi Beta Phi, the natural science, math, and psychology honor society, offers students the opportunity to network with like-minded peers and have their scholarly accomplishments recognized.
Biology students have also enhanced their education by participating in a number of projects throughout the campus and the community, including:
Kelsey Morgan '15 co-wrote a research study published in the Journal of Applied Animal Welfare Science.

Indigo De Jong '15 was the primary author of a study regarding the effects of DDT on eggshell thickness in Red-shouldered Hawks, published in the Kingbird.

Nikki Wilkins '15 was the primary author of a study assessing the accuracy of Eastern Bluebird nestling age estimates, published in the North American Bird Bander.

Janelle Davidson '12 was the co-author of a study that examined factors related to the length of stay of dogs in animal shelters, published in the Journal of Applied Animal Welfare Science.
In the division's work-study program, students learn the "behind the scenes" for preparing a course lab activity and are given a chance to apply what they learn in the classroom. This can include learning microbiological media preparation and sterile techniques, preparing solutions, maintaining live organisms, learning the operation and maintenance of lab equipment, safe chemical handling, ordering supplies, and providing general assistance in the daily operations of a functioning science division.
You'll also find plenty of opportunities to experiment and discover as a member of clubs and organizations, including Chemistry Club.
Contact Information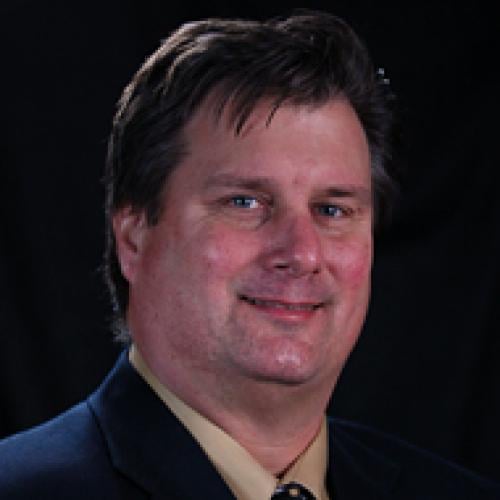 Dr. Michael Keck
Interim Chair of Natural Sciences and Mathematics
Professor of Chemistry
What Biology Graduates Say