Ben Rath '20 loved the physicality and challenge of lacrosse. Nonchalantly brushing off a tough hit was almost a matter of pride. He figures he probably suffered a head injury or two during high school play, but no one really gave it a second thought. You get hit, you get up, and you get back on the field.
But during his junior year playing lacrosse at Keuka College, Ben suffered a more serious head injury during a game. "I caught a ball in the first quarter," he recalls, "and then this kid just came out of nowhere."
Before Ben knew it, he was flat on his back. He wanted to get up but was unsteady. "I like to think I'm pretty tough and I can just get up," he says. "But this time, I couldn't. It was a very, very scary hit."
It was then that Ben learned firsthand just how seriously Keuka College's coaches and athletic trainers take all concussions.
Experts and Expertise
The athletic training staff at the College has developed a concussion care program that relies heavily on testing, assessment, and the expertise of a trio of medical professionals—primary care physician Dr. Robert Anderson and physical therapist Tom DelPapa, both based in Penn Yan, and nationally recognized head-injury expert Dr. Jeffrey Bazarian, MPH, a leading researcher on the diagnosis and treatment of traumatic brain injury at the University of Rochester
Unlike high school, where Ben likely would have received the standard concussion care and been allowed back onto the field, Athletic Trainer Phil Rahr, accompanied Ben to the hospital for an initial assessment. In the days that followed, Ben was required to check in for follow-up evaluations and a daily symptom score. Due to a lack of adequate improvement in those symptom scores and his overall condition, the athletic training staff referred Ben to Dr. Bazarian at the University of Rochester Sports Concussion Clinic.
The first order of business, said Dr. Bazarian, is to figure out what areas of the brain were affected by the concussion.
"It's not just one problem," he says. "A concussion could affect balance, attention, memory, mood, headaches -- there's an evaluation piece."
Once the affected area has been identified, a plan of treatment is determined, usually a combination of medications and physical therapy, said Dr. Bazarian. He said the Keuka College staff are solid partners in carrying out the treatment.

Our coaching staff is very supportive of our concussion program. We tell every student that suffers a concussion that the return to the classroom is always the priority over returning to the field or court—the athletic trainers are 'big picture' people and minimizing the risk of a bad outcome is our goal.
The Keuka College athletic training staff has worked in conjunction with the staff at Hobart and William Smith Colleges, as well as the local and regional medical community, to establish a Concussion Team that can hold its own with any NCAA Division I program. The goal was to not only provide the best care possible for student-athletes but to broaden concussion care in the Finger Lakes region.

At Keuka College, the working relationship on campus between the academic and athletic departments has been a tremendous asset in the ongoing care of concussed student-athletes.
This team approach is something that Dr. Anderson says Keuka College should be proud of. Larger institutions often have access to a broad team of clinicians and specialists, says Dr. Anderson, but for smaller communities, having a few key players work in collaboration can be the key to success.
That's how Dr. Bazarian sees it.
"At most schools, there's an initial level of concussion care, almost like primary care," he says. "But when it comes to digging into the finer aspects of assessment of the specific brain domains that go awry, and/or tailoring treatment, it's helpful to have an affiliation with a university. … Having all of those resources at your fingertips is hard for a smaller school to put together."

Exceptional Results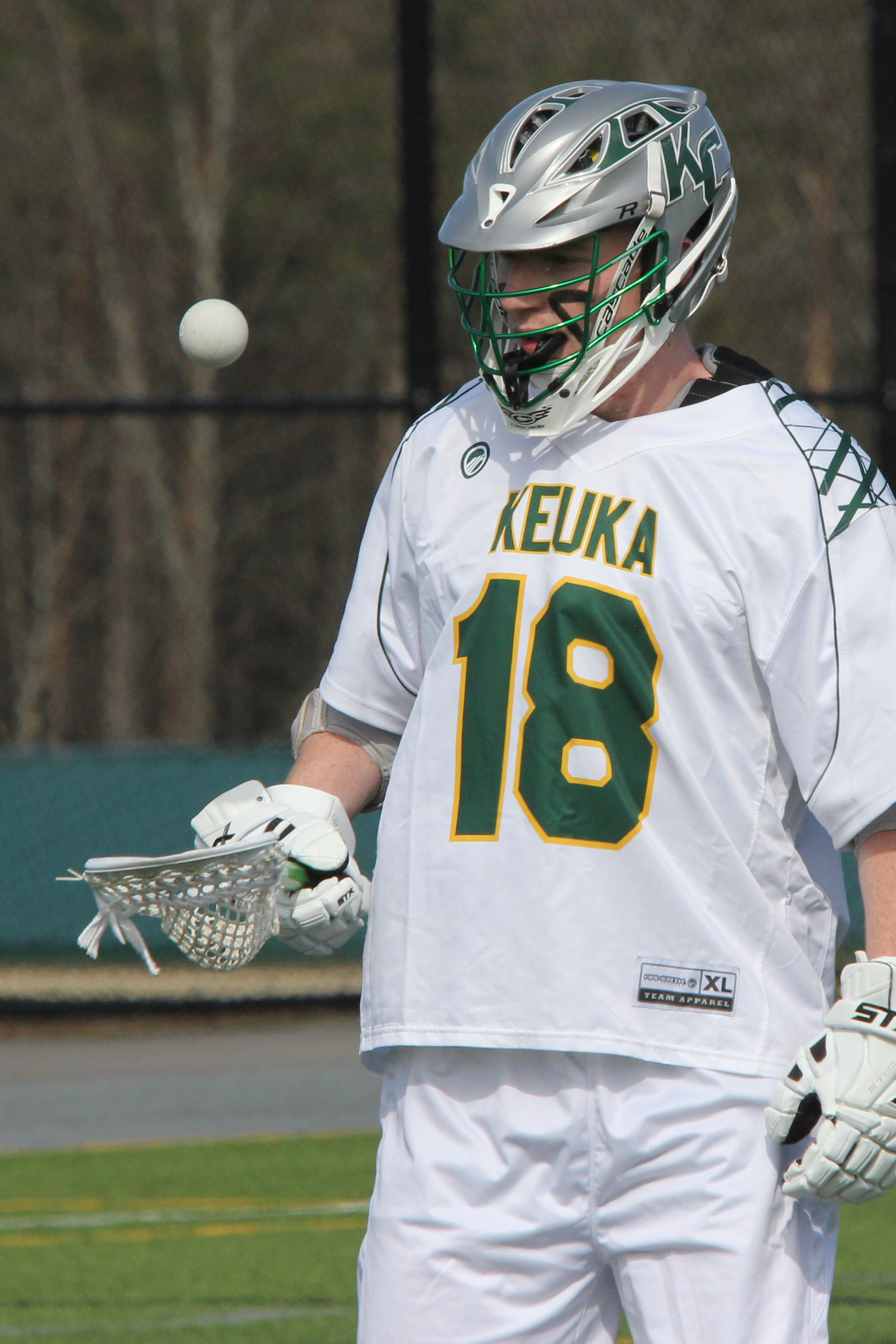 Ben says he was amazed at the level of care he received from the College's Concussion Care Team. Dr. Bazarian evaluated Ben and sent him for CT scans of his brain and referred him to a brain injury rehabilitation specialist. Simultaneously, Bray and Rahr arranged for accommodations with the College's Office of Disability Services and Health and Counseling to help Ben recover from his concussion-induced symptoms—sensitivity to light, inability to concentrate, and headaches.
"Phil, Jeff, and Geena did a phenomenal job of taking care of me," Ben says. "They made me feel comfortable about my injury," allowing him to relax into his recovery process instead of feeling like he had to get better fast and get back onto the field.
That level of care didn't surprise Dr. Bazarian.
"What's unique about Keuka College is Jeff Bray is really interested in concussion care and that trickles down to the other athletic trainers," he says.
Ben knows his concussion care was exceptional because he compared notes with athlete friends from other, much larger schools.
"(They) were going through the standard concussion care protocol, but they weren't getting taken to see a specialist," Ben says.
Except for a buddy who plays football for the U.S. Army.
"Of course, he gets the whole nine yards," Ben says. "He gets the same treatment I got."

For an athlete at a small, rural College to get the same treatment for a head injury as an athlete at West Point, "that kind of sums it up right there," Ben says.
Bray credits the open lines of communication between all involved with the care of the Keuka College student athletes as well as Rahr and Flickner's efforts to stay on top of cutting-edge treatment and rehab of the concussed student athletes.
"The concussion care program is another example of believing in what we can do together," says Bray, paraphrasing the College's signature. "The regional concussion experts respect the knowledge base of our staff and know that we are committed to providing the best care possible for our student-athletes."