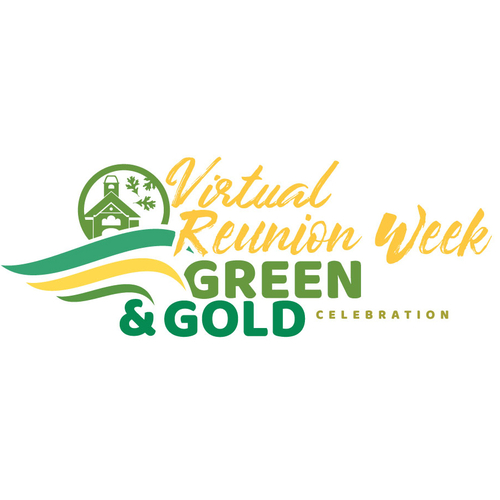 Did you think we were skipping Green & Gold this year? No way!
This year's Virtual Green & Gold Celebration is October 26 - November 1, 2020. There will be a week full of virtual Green & Gold events designed to bring alumni together and celebrate reunion year classes.
We Can't Wait to Party With You - Even if it's Virtually!
Registration is now closed. Check out the schedule below. We are so excited and can't wait to celebrate with you!
Green & Gold Schedule of Events 
4:00 p.m. - Financial Planning in a Pandemic World
It's an uncertain time financially, but hearing advice from a professional might ease some of your concerns. Family Wealth Advisor Michael Palumbos will share information that will assist you in making sound financial decisions for your future. (These are not individual opportunities, but there will be time for general questions. Preregistration is requested.)
7:00 p.m. - Family Feud
We're a family here at Keuka College, so why not enjoy a friendly (competitive) game to celebrate our connections? Green Teams will take on Gold Teams in this variation of the popular television show – but with a Keuka College twist. All survey questions will be based on student experiences past and present. You can sign up to play for the Green or Gold Team or just register to be a spectator, but this game promises plenty of good-natured ribbing, reminiscing, and laughs. This is all about Team bragging rights! If you want to put your own team together, select five classmates, then contact Associate Director of Alumni Relations Laurie Adams at [email protected] to sign up for your team.
7:00 p.m. - KC BINGO!
Forget that old, boring "letters and numbers" BINGO! In the KC BINGO! game, we won't be calling out "N-20;" instead, you'll be looking for a square similar to: Did a Field Period abroad; went skinny-dipping at Point Neamo. If this game doesn't get the nostalgia cranked up, nothing will. (Winners will be added to a pool of names to be drawn for the ten prizes we're giving away.)
4:00 p.m. - Estate Planning 101
Join Amanda Chu, Esq. '88 for tips on estate planning. What are your options? How do you make your wishes known? Amanda will cover the basics and answer questions. (Preregistration requested.)
7:00 p.m. - Chat with Current Students
Regardless of when you graduated, except for our newest alumni from the Class of 2020, none of us has had the college experience our current Keuka College students are having. Satiate your curiosity for what it's like to be a student during the Pandemic. From 7 to 7:30, we'll chat with on-campus students, and then from 7:30 to 8, we'll hear from students in the AOE (Adult Online Education) program.
4:00 p.m. - Chat with the President's Cabinet
Let's go right to the top! There's a lot going on at the College. Hear an update from each area of campus and ask those burning questions. Questions will be accepted at registration only, and a moderator will use those questions as the basis for the chat with the Cabinet.
7:00 p.m. - Green & Gold Show and Tell
We loved it in kindergarten, but it's even more meaningful when you're an adult. Search your home for your most cherished Keuka College-related item to bring to this virtual Show and Tell. Wear your "walking" shoes, because there's no doubt this stroll down Memory Lane will have you pining for the good ol' days at your alma mater.
4:00 p.m. - Pathfinder Tea and Medallion Ceremony
This virtual party is for alumnae from the classes of '70 and earlier, but if there's room, all are welcome to attend. Celebrate as we add the newest class of Pathfinders, the Class of 1970, to our rolls. Bring a cup of your favorite tea and let's celebrate those who paved the way for our young alumni and current students. (Please note: "Young" is a relative term.)
7:00 p.m. - Alumni Association Virtual Gala
This year's Alumni Association Meeting and Alumni Awards ceremony will look different, but we can make it even more fun. Let's pretend we're at the most glamorous awards ceremony ever. Even though we'll be on Zoom, that shouldn't stop us from having fun and imagining the glitz. (It's the one time you can get all dressed up from the waist up and no one will know you're wearing bedroom slippers with that gown.) Alumni Association Executive Council President Chrisy AmEnde '83 will give an update from the executive council, President Amy Storey will give an update on the College, you'll hear information from KC FAN President Jon Salotti '21, and then we'll toast the 2020 Alumni Award Recipients – Lift a glass from the comfort of your favorite chair.
10:00 a.m. - Health and Wellness
Virtual yoga and Tai Chi are the rage right now as we prove to this pandemic that we will persevere and carry on. Follow along on Zoom as a coach leads you in exercises to relax your mind and body.
1:00 p.m. - Virtual Tour of Campus
Associate Vice President for Student Affairs and Dean of Students Jon Accardi '09 will lead you on a virtual tour of all the recently renovated spaces on our campus. If you haven't been back on campus for a while, you'll be amazed at how fresh and exciting so many of the areas are now. Sit back and join in via Zoom.
4:00 p.m. - Keuka College Trivia
You think you know all there is to know about your alma mater? Well, let's test that trivia knowledge in a game of Kahoots! It's a super fun competition, but even more fun is all the little trivial facts that no one needs to know, but now you will. You have the option to play or just watch to see if your answer is right. To play, you need a smartphone or iPad. (Prizes for the top three scores.)
8:00 p.m. Halloween Bonus Event
"Spooktacular KC"
10:00 a.m. - Memorial Service
Join us for this interdenominational service led by College Chaplain Rev. Eric Detar and Rev. Betsy Bueschel '65 as we quietly reflect on what it means to be a member of the Keuka College family and to remember classmates who have passed away since the last reunion in 2015. We encourage Zoom participants to light a candle in memory of classmates and friends while a candle is being simultaneously lit in Norton Chapel as names are read. (While we remember all of our fellow alumni who have passed, we will focus on the reunion class years that end in "00" and "05," specifically for this service.)