Elevate Your Creativity. Bolster it with Business Skills.
If you're interested in design, visual expression, or digital communication, you'll excel in Keuka College's Art & Design program. You'll learn to bring your unique visions to life and develop your own personal style in any medium you can imagine.
From drawing to graphic and web design, photography and painting, your professors will help enhance your creativity and develop the skills you'll need for success in the workforce or graduate study.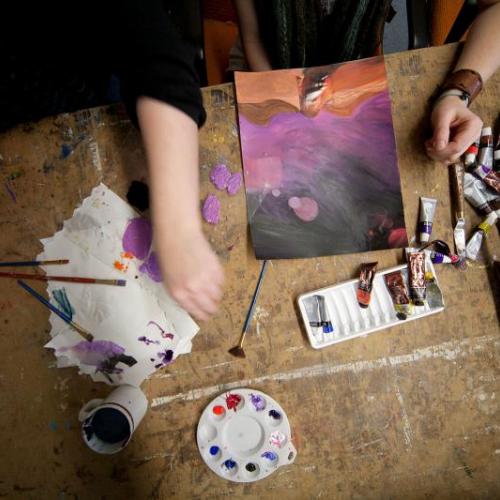 Real-World Art & Design Experience. Every Year.
The Keuka College Field Period® gives you the chance to have four separate, real-world experiences in Art & Design.
Whether it's an internship with a professional artist or a creative portfolio project of your own, you get to create your own experience and build in-demand professional skills.
Program Overview
The Art & Design major or minor are fantastic choices if you're interested in design, visual expression, or digital communication. And, according to the Wall Street Journal, fine-arts degrees lead to high job prospects and satisfaction in a number of different industries.
At Keuka College, your professors will work with you to foster your creative development and personal expression. You'll graduate with a portfolio that demonstrates your mastery of the skills and experiences you need to use art and creative expression to meet critical business needs in today's world.
And, as a result of your Keuka College's Field Period® experiences, you'll graduate with four real-world art and design experiences that enhance your résumé and your portfolio.
The Art & Design minor brings a flair of creativity to any major, but it goes particularly well with organizational communication, management, and marketing.
Learn More About Art & Design
The Art & Design faculty at Keuka College are more than just great teachers. They're accomplished artists who will serve as creative mentors and help you achieve your dreams.
As an Art & Design student, you'll also have the chance to work with and study under musicians, professional dancers, writers, poets, and philosophers who comprise the College's Humanities and Fine Arts faculty.