Prepare Yourself for a Career in Leadership with a Business Management Degree
Do you want to learn the art and science of leadership? Are you interested in a versatile degree that can take you just about anywhere? As a management student at Keuka College, you'll learn how to lead teams, motivate others, use financial resources effectively, and structure processes to achieve your goals in the marketplace.
You'll graduate with the knowledge, skills, and hands-on experience needed to flourish in today's global business environment. The management program also prepares you for success in graduate business programs such as a master of science in management (MSM) or a master of business administration (MBA).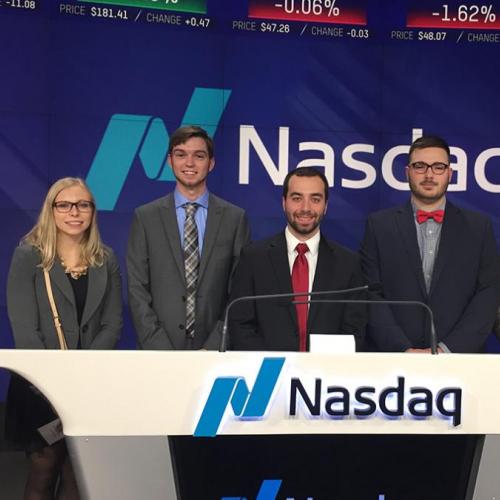 Get Real-World Business Experience
Real-world, hands-on experience is an important part of your management degree.
The Keuka College Field Period® gives you the chance to have four separate internships in business, starting your freshman year.
Program Overview
Management Major
Keuka College's management major offers you a broad overview in business, management, and leadership.
The base of your degree will include courses in accounting, business law, strategic management, business computer applications, economics, finance, marketing, human resources, and statistics.
You can personalize and customize your degree by selecting a concentration that interests you most. You can choose from accounting, entrepreneurship, international business, marketing, sports management, or human resources.
Hands-on experience is integrated throughout all of your business courses. You'll have classes that include:
Industry business software
Stock-trading simulations
Building a business and marketing actual products
At Keuka College, you get to do much more than simply learn theory—you'll see how textbook material applies to actual enterprises, and have the chance to practice your management skills before graduating.
Management Minor
If you're majoring in a professional field that might one day require you to lead people or manage resources, consider adding a minor in management.
You'll learn the fundamentals of accounting, economics, human resources, marketing, and how business integrates in with our society. The management minor will prepare you for supervisory positions in an array of careers, ranging from social work and criminal justice to education and medicine.
In addition to Keuka College's institutional accreditation by the Middle States Commission on Higher Education, the College has received specialized accreditation for its business programs through the International Accreditation Council for Business Education (IACBE).
IACBE Information
The Division of Business and Management has received specialized accreditation for its business program(s) through the International Accreditation Council for Business Education (IACBE) located at 11960 Quivira Road in Overland Park, Kansas, USA. For a list of accredited programs please view our IACBE member status page.
Keuka College's management faculty are active scholars and researchers, and they offer you the opportunity to partner on projects if that's where your interests lie.
Faculty research interests include entrepreneurship, leadership, corporate governance, discontinuous innovation, supply chain management, and accounting fraud and detection.
Keuka Commons is the newest building on Keuka College's campus, and is home to the Division of Business and Management and the Center for Business Analytics and Health Informatics. Keuka Commons features industry-standard computer labs and software, high-tech classrooms, faculty offices, as well as comfortable study space and convenient access to the bookstore and Wolf Den Café and Starbucks coffee.
The Keuka Business Park in nearby Penn Yan houses space designated for STARTUP-NY, allowing the division and the College to partner with entrepreneurs to bring new and innovative products and services to the Finger Lakes region.
Entrepreneurs receive a tax benefit and expertise from the College's faculty and students, while the College is able to help the regional economy and bring real-world business scenarios and problems to our students.
At Keuka College, your management faculty are more than just great teachers.
They're accomplished leaders, managers, executives, entrepreneurs, and scholars who will serve as mentors and help you achieve your goals. As a management student, you'll also have the chance to work with and study under the accomplished accountants, lawyers, and financial experts who comprise the College's business and management faculty.
And each of your professors come to the classroom with real-world experience in the field that complements their academic knowledge. Our faculty have worked in some of the world's largest financial centers, served as leaders in Fortune 500 corporations, started (and continue to maintain) their own enterprises, and held executive roles with some of the world's most prestigious brands.
Contact Information