Ever pause while playing "League of Legends" and think, "I wish I could make a career of this"?
Guess what? You can! Just ask Keuka College senior Max Race '21. He arrived on campus three years ago intent on playing lacrosse and earning a business degree. The opportunity to join the College's esports team changed his mind – and his career plans.
"I 100 percent would have never pursued an esports career had I not attended Keuka College," says Max, a captain on the College's esports team. "The College is ahead of the game in its understanding of where esports is going."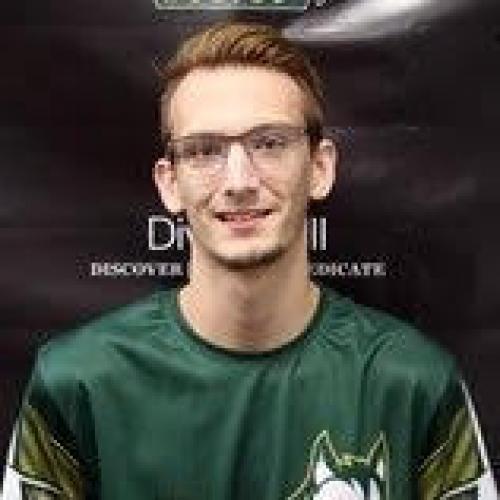 "My parents just thought it was video games. It's really hard to convince parents from a different generation that esports is a real thing — until the College started its programs. Now I can show my parents, hey, I have a minor in epsorts!"
Up. That's where esports is going. Competitive video gaming, as it is also known, is one of the fastest-growing entertainment industries in the world. Competitors from across the globe face off in high-stakes tournaments that draw thousands of fans to stadiums, and millions more online.
Keuka College's new Esports Management major will prepare you to be a part of this fast-growing and lucrative industry.
You don't have to be a top-ranked player. There are a variety of incredible opportunities throughout the global industry.
POPULAR ESPORTS GAMES
Fortnite
League of Legends
Call of Duty
Overwatch
NBA2K
And yes, you'll make the team.
Keuka College does!
And our Esports Management and Sports Management minors are already well established. Pair one of them with the major of your choice and launch yourself into a competitive-gaming career niche:
English: The industry needs both technical and creative writers to develop and craft instructions and gaming narratives, respectively.
Psychology: Specialize in the study of user experience or player behavior.
Communications: Marketing and event-publicizing opportunities abound.
These programs not only provide solid foundations for your Esports Management major, they can prepare you for a variety of careers in any number of other sports industries.
"It's an industry that is experiencing exponential growth – and it's already so massive! With this degree, you could really move into many aspects of the industry."
And don't forget: Nowhere else will you find the job-market advantage of our signature internship program, the Keuka College Field Period®, which ensures you'll graduate with a minimum of four, real-world career experiences totaling some 560 hours of on-the-job expertise.